Administrative capital: Podgorica
Historical capital: Cetinje
Population: 650 000
Coastline: 293 km
Length of beaches: 73 km
Highest point: 2523 km
National Parks: Durmitor, Squirrel, Skadar Lake, Biogradska worse, Prokletije
Language: Montenegrin-Serbian, Bosnian, Croatian
Border: with Serbia, Bosnia and Herzegovina, Croatia, Albania
Currency: euro
Geography
Montenegro is located in southeastern Europe on the Balkan Peninsula. The territory of Montenegro covers approximately 13,812 km ². It is bordered by Croatia (14 km) to the west, Bosnia and Herzegovina to the north (225 km), Serbia to the east (203 km), Albania to the south (172 km) and from Italy by the Adriatic Sea. Montenegro ranges from high peaks on the border with Serbia and Albania, and spreads a large plain which stretches several kilometers. Mountains are one of the most "wild" in Europe. Their average altitude is over 2,000 m. The highest peak of Montenegro is "Evil Kolata" on Prokletije with an altitude of 2534 m. The Adriatic region is divided into the: Bay of Kotor, Montenegro or coast of Pastrovici, the Bar field, Skadar basin and Zeta.
Economy
The most important mineral wealth are the bauxite, iron ore and coal. The main industrial activities are the processing of tobacco, salt, and aluminum. Of the total area of ​​Montenegro (13,812 km ²) of agricultural land covers 5165 km ² (37.40%). Total area of ​​arable land in 1899 km ² (13.75% of the total land area in Montenegro). The main agricultural crops grown are cereals, potatoes, tobacco, grapes, citrus fruits, olives and figs. Tourism is very important to the economy of Montenegro. In 1999, as currencies instead of the Yugoslav dinar was introduced the German mark. Since 2002. the euro is legal tender in Montenegro. In 2007. employed was 156 408 inhabitants, mostly in secondary and tertiary sectors. Montenegro from 18 January 2007. member of the World Bank and International Monetary Fund.
Tourism
Montenegro has good conditions for development of all types of tourism, as has beautiful beaches, the mountainous region to the north, rich cultural heritage and well-preserved natural environment. Montenegro has been a famous tourist resort in the 1980s, but because of the wars in neighboring countries during the 1990s, its image of tourist destinations compromised. Montenegrin tourism did not begin to recover until early 2000s, and since then has significantly increased the number of tourists and overnight stays. Almo
st all economic activities in Montenegro are focused on the development of tourism. Government of Montenegro has set itself the goal of development of Montenegro an elite tourist destination.
Famous tourist destinations in Montenegro are:
Sveti Stefan – former fishing village, today a city-hotel
Old Town in Kotor – UNESCO protected
Boka Kotorska
Budva
Ulcinj and Ada Bojana
Monastery Ostrog
Lovćen a national park that contains the mausoleum of Petar II Petrovic Njegos
Cetinje – the historical capital of Montenegro
Durmitor
Adria Stone nekretnine
Culture
Culture of Montenegro was formed from diversive influences throughout its hist
ory. The influence of Orthodoxy, Slavic, Central European, Islamic and Mediterranean maritime culture (from parts of Italy, such as the Venetian Republic) were present in the last few centuries. Podgorica and Cetinje are the most important centers of culture and art in the country. In Budva every summer arts event held Budva Theatre City. Montenegro has many significant cultural and historical monuments, including monuments from Romanic, Gothic and Baroque. Montenegrin coast is known for its religious monuments, including the Cathedral of Saint Tryphon in Kotor, the Basilica of St. Luke (the old more than 800 years), Church of Our Lady of the Rock, Savina Monastery and others. Montenegro's medieval monasterie
s contain thousands of square meters of frescoes. The most famous Orthodox monasteries in Montenegro: Cetinje monastery, monastery Ostrog and Morača monastery.
Music
Traditional Montenegrin instruments are fiddle- gusle. Traditional folk dance is oro, a game where players stand in a circle leaning on each other's shoulders while one or two players standing in the middle.
Montenegro held a summer festival of music-pop song of the Mediterranean in Budva, "Suncane skale" in Herceg-Novi and traditional music festival "Cetinje Fest".
Kitchen
Montenegrin cuisine is a result of its geographical position and long history. Italian influence on traditional dishes in the continental part of Montenegro and its Adriatic coast is visible in the way of preparing bread, meat, cheese, wine and alcoholic beverages, broth and soup, polenta, stuffed peppers, meatballs, Priganica, rastan… Another major influence comes from Turkey,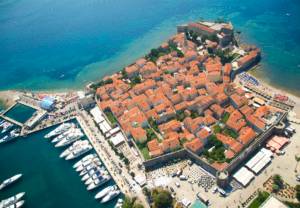 and is reflected in the preparation of cabbage rolls, moussaka, pilaf, pie, pies, kebabs, kebabs, baklava. Hungarian goulash dishes, casseroles and sataraš are also common. The influence of continental Europe, the highest mark left on the preparation of desserts: donuts, jams, many kinds of biscuits and cakes. Montenegrin cuisine depends on g
eographical location, as the dishes served at the coast differ from the dishes in the northern mountainous areas. On the coast is the great influence of Mediterranean cuisine, with the usual seafood (fish, octopus, shrimp and squid). Of Montenegrin cuisine is famous ham. Known types of wine from Montenegro Cormorant-Vranac (red wine) and Krstac (white wine).